Anderson Metals Corp., Inc.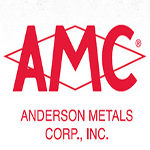 Premier partner
Address:
1701 Southern Road P.O. Box 34200
Anderson Metals Corp., Inc. is a family-owned and operated manufacturer of brass fittings, valves and pipe nipples based in Kansas City, MO since 1947. We specialize in products manufactured from brass forgings, rod and castings.
Sign up for our Email List
Stay updated with all our latest posts, products and offers! Just enter your information below.