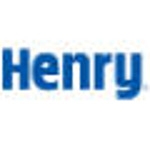 Premier Partner
Henry products and systems manage the flow of water, air, vapor, and energy through the building envelope, from foundation to roof, improving the structure's energy efficiency, livability, and sustainability for the benefit of the owner, occupant, and the environment.
Sign up for our Email List
Stay updated with all our latest posts, products and offers! Just enter your information below.